#3. Lentil And Sweet Potato Soup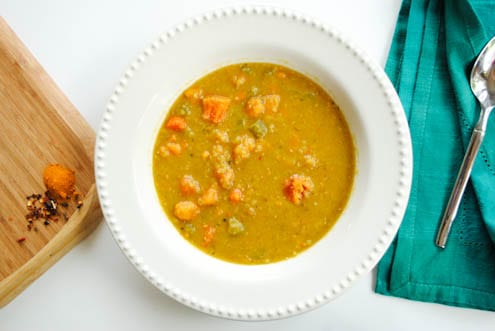 1 tbsp butter or coconut oil
1 cup red lentils, rinsed
5 cups vegetable stock
2 leftover sweet potatoes or yams
2 chopped onions
1 chopped green pepper
2 chopped garlic cloves
2 tbsp apple cider vinegar
1 tsp ground coriander
1 tsp ground cumin
½ tsp chilli powder (optional)
1 tbsp chopped fresh ginger
Chopped cilantro
2 tomatoes or 1 can tomatoes
Heat the butter and sauté the garlic, ginger and onion.
Add the spices (coriander, chilli, cumin). Stir in stock and lentils, tomatoes, sweet potatoes (or leftover pumpkin) and bring to boil and then simmer for 20 minutes.
Blend in a food processor until smooth. Add vinegar and stir well. Sprinkle with chopped cilantro and serve. Enjoy!
Fact: The lentils in this dish are a great source of protein and will help keep blood sugar levels stable if you are prone to low blood sugar. Lentils are also quick and easy to prepare since they don't require soaking.
Recipe by
fitlife.tv
at http://fitlife.tv/3-recipes-for-holiday-leftovers_original/nutrition/